&nbsp Welcome to NWMicroBrews, a site dedicated to a collection of over 4400 microbrew bottles from over 800 brewers, Northwest or otherwise. &nbsp So sit back and see if your favorites are here, but first a 'Thank You' to my contributors:
KEN BATES, MARTIN BAUER, JANNE BEKKESETH, HILDE BJORKHEIM, MIKE BLAIN, BOTTLEWORKS, ANDREW and METTE CLARKE, CARTER DANNE, TIM EBLING, SHANNON FENTON, JIM HOWARD, SUSAN HOWARD, MICHAEL JAMES, DIANNA, KIRSTEN, and LOREN JENSEN, RJ JOHANSEN, ROBERT MARCEL, DANE and de-ANNA MARTIN, STEVE McVICKER of MICROBREW-NW, PETER MELLINGER, BRADLEY PEET, TERRY PENNELL, DAVID PETRUZZI, LINCOLN SKRYPECK, JEFF SQUIRE, KEVIN VAUGHAN, and MATT YOUNTS.
Would you like your beer labels on here? &nbsp Send me an e-mail. &nbsp Now, let's get to the pics... Cheers!
IMAGES AND LOGOS ARE THE PROPERTY OF NWMICROBREWS AND ARE NOT TO BE USED WITHOUT PERMISSION!
---


APRIL 23, 2013

FREMONT: &nbsp Another update from FREMONT BREWING. &nbsp Originially brewed for the 7th Anniversary (March 2012) of Brouwer's Café, FREMONT will be releasing this one in bottles @ Bottleworks on April 30th. &nbsp Having had this on draught, I can say I am really looking forward to this one: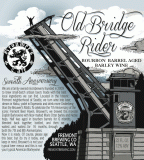 APRIL 4, 2013

FREMONT: &nbsp This years Seattle Beer Week runs from May 9th to the 19th. &nbsp Chosen to brew their 5th Anniversay beer was FREMONT BREWING. &nbsp Pictured below is their Seattle Beer Week Organic Pale Ale: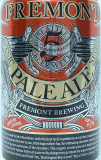 MAY 15, 2011

TWO BEERS: &nbsp A new brewery has popped up in Seattle, TWO BEERS BREWING. &nbsp While I haven't yet put up their Evolutionary IPA or Persnickety Pale, it appears they will have a third bottled beer coming soon, Panorama Wheat Ale: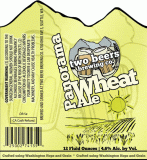 FEBRUARY 21, 2011

BRUERY: &nbsp This years Bottleworks Anniversary, now on #12, was brewed by THE BRUERY out of Placentia California. &nbsp Here is what Patrick Rue had to say about the beer: "Base beer: Imperial Witbier, 8% ABV, sour mashed 1-2 days, and fermented with a blend of Berliner Weisse culture and Belgian Witbier yeast. Beer is barrel fermented in large red wine barrels (132 gal. barrels). Raspberries are added to the beer towards the end of fermentation directly to the barrel, and aged on the raspberries for a minimum of 1 month. The Berliner culture contains souring bacteria and the raspberries will add acidity to the beer." &nbsp Sounds pretty tasty! &nbsp Here is a sneak peek at the label: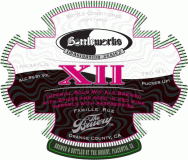 JANUARY 12, 2011

ROSLYN: &nbsp Yep, there was a new label from ROSLYN BREWING. &nbsp Roslyn Beer is now Roslyn Dark Lager. &nbsp I've always wondered if they will ever release anything new? &nbsp It sure would be nice if they did!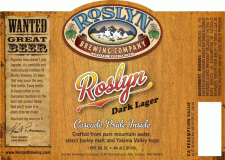 ---

For previous news, click the following:

NEWS 2010
NEWS 2009
NEWS 2008
NEWS 2007
NEWS 2006
NEWS 2005
NEWS 2004
NEWS 2003
NEWS 2002
---
- NWMICROBREWS.COM is powered by NOTEPAD and APACHE

web server -
Copyright © 2002-2013 André Bjorkheim